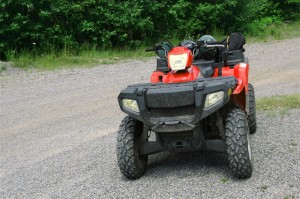 For those who head out on their ATV to take a ride along the trail, there are a number of twisting turns, other riders on their machines and narrow paths that can affect your driving path. Thanks to a reliable insurance policy for your ATV, you will be protected financially from any unforeseen events that might come your way. If you are worried about being protected when riding your ATV, take a look at the following to make sure you have the peace of mind you need when riding.
Transport Trailer
Do you use a trailer to get your ATV from one place to another? If so, there is always the chance that your trailer might wind up being damaged in some type of accident or another. One wrong turn could be disastrous. Thanks to transport trailer coverage, you can add as much as $10,000 in physical damage coverage to protect your trailer. Make sure to check whether you have this on your auto policy before adding it to your ATV policy.
Your ATV is in a Crash
Think about it: there are a number of different things that you can easily crash your machine into. Cacti, rocks, trees, signposts, other riders, ponds, buildings and so on and so forth. When riding out on the ATV trail, you have no idea what might be on the road before you. Being prepared for anything is the best thing you can do.
Collision coverage works to protect you in the event of any major crash that causes damage to your ATV. Another thing to consider is purchasing liability coverage to pay for those items that you crash into, as well as the medical expenses of another rider.
Injuries to Your Passenger
If you and your friend head out for a ride on your ATV, there is a chance one of you could get injured. What happens with your friend who needs medical treatment because of an unforeseen circumstance? Injuries from an accident could end up costing you a fortune in medical bills and lawsuits.
Most of the time, your current ATV insurance policy will extend to any passengers on your machine. If someone is riding with you and they are injured, the coverage option often includes medical payments, bodily injury liability and other coverage to help cover any bills you have before you. In the event of a lawsuit, you can rest assured that you are covered as well. Another thing to consider is that bodily injury liability coverage often excludes those living in your home. These individuals are often covered under the policy in effect for medical payments.
Take the time to speak with an insurance advisor about what type of policy you need when riding on your ATV.